Charlotte McKinney plastic surgery for larger chest – or not?
Posted on:
April 8, 2015
/
Cosmetic surgery – Did she or didn't she?
She's been compared to Kate Upton and has been seen around toting hamburgers in a chatter causing Super Bowl commercial, not to mention booking a classy ad campaign for Guess! Jeans. Much like another high-school dropout turned Guess model- 90's blonde bombshell Anna Nicole Smith – McKinney's chest has become a controversial topic. Many have concluded they're fake.
Not so, says Charlotte McKinney. In fact, she's recently spoken out in the press about how her large bust preceded an interest in a modeling career, not the other way around, claiming that when she went through puberty and her body started to change she was bullied by the other girls as a result. Finding herself isolated from her peers due to her body, as well as struggling with dyslexia, she became motivated to forge her own path in the world, dropping out of high school at age 17 and moving from her home state of Florida to California with aspirations of becoming a model.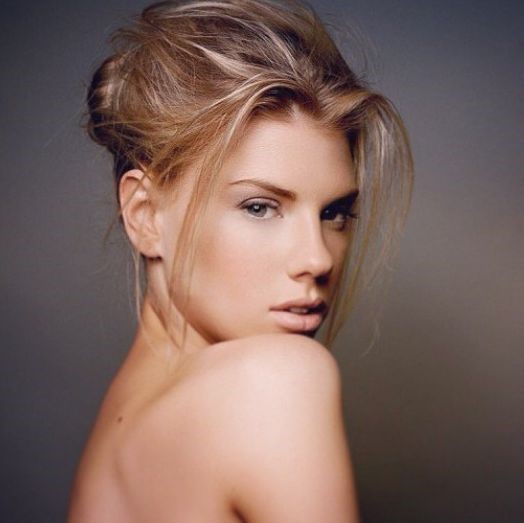 All that considered, Charlotte McKinney is an overnight sensation in the truest sense, which means there isn't a whole lot of "before" pictures in circulation that would provide a basis for comparison. Her modeling career began in an entrepreneurial way with her posting photos of herself on an Instagram account (which goes back to 2011) and amassing several hundred thousand followers after only a couple of years. The Guess campaign and the burger chain commercial (Carl's Jr.) followed from the popularity she built through her online following.
While many celebrities have denied plastic surgery only to later retract their claims, or denied even when the transformation was obvious, McKinney has at least used her claims of a naturally curvaceous figure to create a narrative of self-acceptance, empowerment, and sheer ambition. Despite being bullied while growing up, she still put herself out there, becoming famous in a society where women and their bodies are picked apart and dissected, essentially opening herself up to another kind of bullying. However, her attitude with the media has been easy-going and genuine.
She even recently went on Dancing With The Stars (getting eliminated after only the second week) where not surprisingly her over-sized bust one noted as one of her greatest challenges. Despite her early exit from the show, her personality won favor with both the judges and the audience. Perhaps she'll stick to modeling from now on, where her presumably natural assets work to her favor, not against it. Check other Dancing with stars celebrities like Rumer Willis, Patti Labelle and Suzanne Somers.
---
Tell us what you think! Are those breasts real?
Comments