Jessica Alba: Plastic Surgery or Is She Blessed by Nature?
Posted on:
November 13, 2016
/
Jessica Alba: Plastic Surgery Or Is She Unfairly Blessed by Nature?
Actress Jessica Alba kicked her way to stardom with her breakthrough role on TV's sci-fi series, Dark Angel (2000). This versatile actress is most popular for action/science fiction movies and has so far, had 13 awards and 14 nominations, including wins in the Kids Choice Awards, ALMA Awards and one nomination for the Golden Globes, USA for her performance in Dark Angel (2000).
Early Life
Born to Catherine and Mark Alba on April 28, 1981, in the city of Pomona, California, film actress Jessica Marie Alba grew up in a military home (U.S. Air Force) and that meant the family had to move around a lot between California, Mississippi and Texas then finally back to California.
Her interest for acting piqued in her pre-teens and Jessica was so dedicated that she already had an agent by the time she was 12 years old. She secured her first film role in the comedy Camp Nowhere (1994), while working as a model and TV commercial actress on the side. Later appearances include The Secret World of Alex Mack (1994), Flipper (1995) and the role of Sue Storm in the Blockbuster movie series, The Fantastic Four (2005, 2007) and so on.
Has Jessica Alba Undergone Plastic Surgery?
Jessica Alba's features show a portrait of an interesting blend of unique ancestry. Her father is Mexican-American while her mother has Danish, French, English, German and Welsh roots. As a result, she remains one of the most watched and desirable women in Hollywood. The intrigue and debate about her possible plastic surgery stem from the fact that she seems to be defying age. Jessica Alba is now in her mid-30s, an age where fine lines and drooping skin begins to appear. Comparing her before and after pictures: rather than looking older, she looks younger each year. Could that be possible without some sort of cosmetic medical intervention? Certainly not. Let's look at some of the most noticeable changes in her anatomy so far.
Jessica Alba and Nose Job
Looking closely at her before and after pictures, the most glaring change on her face is the shape of her nose. Previously, her nose bridge was wider and the nose ended with a rounded tip. Somehow, her recent pictures now show a much slender and straight bridge with a small pointed tip. This type of nose shape is highly desirable among women and is particularly sought after in Hollywood. If indeed she had Rhinoplasty, it was very well done as the newer nose matches her face better.
Evidence of Breast Augmentation
The tell-tale signs of breast augmentation are very noticeable after comparing her recent pictures with older ones.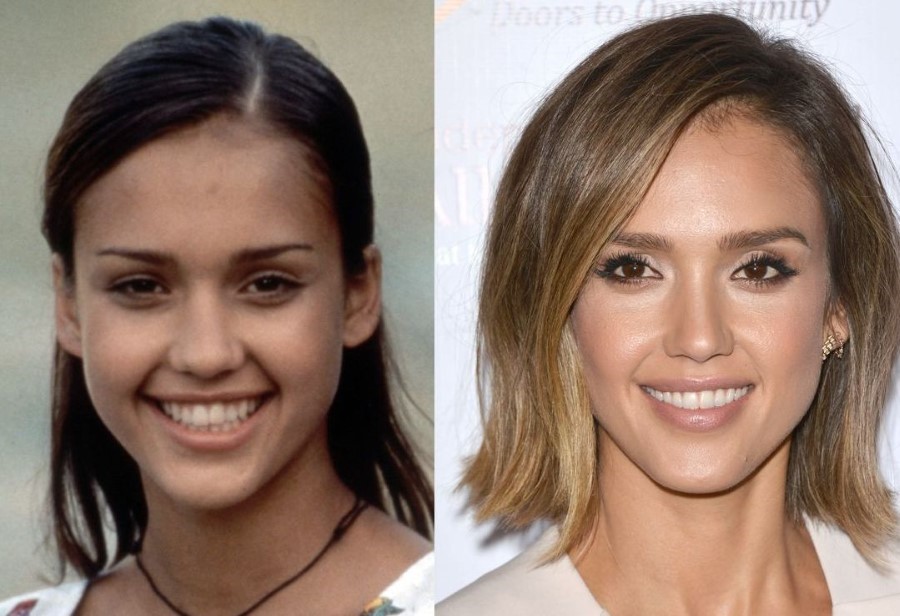 She had a much flatter chest in her younger days most likely an A-cup bra size. Now, she would fit nicely into a C-cup as her bust is clearly rounder and curvier with a more pronounced cleavage. Though, some attribute this bust size increase to the results of motherhood, the difference in size is enough to strongly point to having had breast implants. Whatever the case may be, this has greatly increased her feminine appeal and made her fit better into her dresses especially on the red carpet.
For a woman that is now a mother, it's remarkable that she can still get away with acting much younger roles due to her physique and gentle good looks. This star has been voted "the sexiest woman" and Jessica's also been named among the most beautiful people several times in various publications and she is obviously not going to lose that title anytime soon.
---
What do You think about Jessica Alba's plastic surgery? Leave a comment!