Kellie Pickler plastic surgery and botox
Posted on:
May 26, 2015
/
Kellie Pickler, like many celebrities and stars out there, has had plastic surgery. This very pretty, ex cheer leader, beauty queen, country star, has won several awards at the CMA's for song writing and her videos, between 2007-2009. She obviously has talent and didn't need to do this to herself to sell tickets. Kellie is from North Carolina and American Idol fame. She admits to having Botox on her face. It looked more than fine with no visible wrinkles before.
Her face doesn't look as lively as it was before, now. It has an unnatural expression as Botox freezes the face so that facial expression doesn't change. You are literally putting bacteria In your face too.  Not sure how many wrinkles could be on the face of a 29-year old. Guess she saw them. Botox at this stage of the game was totally unnecessary too. Entertainers need to keep up their appearances so they get offers to do engagements.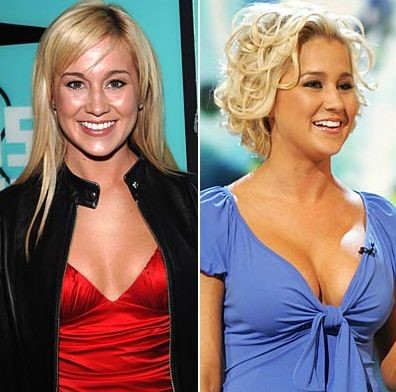 The better they look, the more bookings they will get. While this is understandable, this is taking it too far. Now she appears to have gone from a natural bust size of an A cup, as is petite, to a B in 2013.  More recently now we see her with what looks to be DD breasts, that look unnatural and don't fit her body. She denies that she had plastic surgery, when it is obvious in before, after photos that she did.
Perhaps she had pressure to look sexier for her concerts, rather than her 'girl next door' naturally pretty look. With Kellie Pickler, she looked fine with the increase in bust size to a B as looked natural. It may even hurt her more than help her as she has been on TV programs where she has needed to be wholesome and active. Not sure how quick on her toes she can be with large silicone breasts and she certainly doesn't look as pretty as she was before!
For Kellie Pickler, sadly as is the case with other stars, this was a misguided decision.
---
What is Your opinion. Did she have her breast enlarged? Did she use botox or some other fillers on her face?